(text in english below)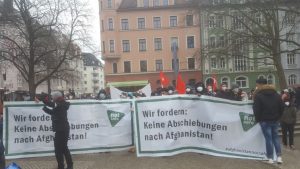 Mit vielen Menschen haben wir gestern in München gegen die geplante Charterabschiebung nach Afghanistan am 09.02.2021 demonstriert. Lautstark haben wir bei dem Demonstrationszug von der Münchner Freiheit am Bayerischen Verwaltungsgerichtshof vorbei bis vor das Inneninisterium unseren Protest gegen die gewaltsame Zurückführung von schutzsuchenden Menschen in ein von Krieg, Terror und Elend gekennzeichnetes Land – und das mitten in einer weltweiten Pandemie – zum Ausdruck gebracht.
Es gab dabei Redebeiträge von der Karawane München, von unserem Genossen A. als betroffenem Afghanen, Grußworte von Kinderarzt Tom Nowotny sowie Redebeiträge von Stephan Reichel (matteo – Kirche und Asyl), Agnes vom Bayerischen Flüchtlingsrat, Thomas Lechner (Stadtrat in München) und Marion Schmidt vom Internationalistischen Bündnis.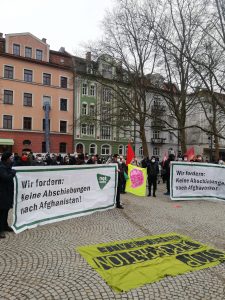 Wir bedanken uns bei allen, die den Protest gegen die brutale bayerische Abschiebepolitik unterstützen und werden uns auch zukünftig mit euch gemeinsam für eine solidarische und menschliche Asylpolitik und gegen alle Abschhiebungen einsetzen.
+++++++
With many people we demonstrated yesterday in Munich against the planned charter deportation to Afghanistan on 09.02.2021. We loudly expressed our protest against the forcible return of people seeking protection to a country marked by war, terror and misery – and this in the middle of a worldwide pandemic – during the demonstration march from the Münchner Freiheit past the Bavarian Upper Administrative Court to the Ministry of the Interior.
There were speeches from Karawane München, from our comrade A. as a concerned Afghan, greetings from pediatrician Tom Nowotny as well as speeches from Stephan Reichel (matteo – Church and Asylum), Agnes from the Bavarian Refugee Council, Thomas Lechner (Munich City Council) and Marion Schmidt from the Internationalist Alliance.
We thank everyone who supports the protest against the brutal Bavarian deportation policy and will continue to work with you for a solidary and humane asylum policy and against all deportations.