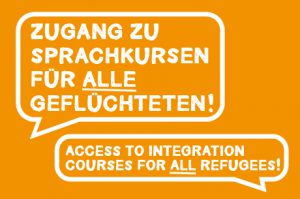 Deutsch lernen zu können, ist Voraussetzung für Integration und Teilhabe am öffentlichen Leben. Die Möglichkeit zu arbeiten und ein selbständiges Leben zu führen, hängt maßgeblich von der Fähigkeit sprachlicher Verständigung ab. Nach wie vor gibt es in Deutschland keine flächendeckende Bereitstellung von Sprachkursen für geflüchtete Menschen. Das muss sich ändern! Wir fordern die flächendeckende Bereitstellung von Sprachkursen für alle geflüchteten Menschen in Deutschland.
Having the possibility to learn the German language is a viable precondition for integration and participation in public life. The possibility to work and to live an autonomous life depends crucially on the ability to communicate. Still, there is no complete coverage of language courses for refugees in Germany. That has to change! We demand a comprehensive provision of language courses for all refugees in Germany!
Hier geht es zur Petition / Here you find the link for signing the petition.
https://www.openpetition.de/petition/online/zugang-zu-sprachkursen-fuer-alle-gefluechteten-access-to-integration-courses-for-all-refugees
Thanks for signing.